The first and only MikroTik training center in Việt Nam.

We have launched TNA to meet the rapidly growing demand of Vietnamese businesses for professional MikroTik network engineers. MikroTik is a world popular vendor of affordable and reliable professional networking equipment, which has been unspotted for an unfairly long time in Vietnam.
Our mission is to share expertise, form the educated IT community and take Vietnam to the next level of technology.
Founded by the world-class expert in MikroTik network engineering from Russia.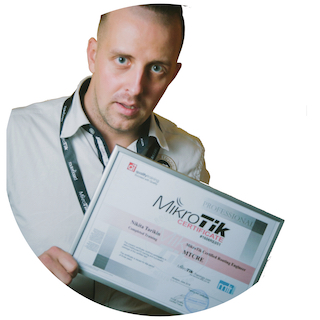 Nikita Tarikin 🇷🇺
The #2 certified consultant in Europe
The story of TARIKIN Network Academy came from the MUM Vietnam conference in January 2019. It was conceived from an idea of Mr. Edmunds Aperans, the training and sales manager of MikroTik company. Being disappointed by the popularity of MikroTik technologies and sales performance in Vietnam, he had to admit the complete absence of local trainers and very low number of certified engineers. That's why Mr. Edmunds Aperans privately suggested Nikita Tarikin to become the first MikroTik trainer in Vietnam. This is how the TARIKIN Network Academy concept started.
MikroTik training program in Vietnam
TNA-MTZero
MikroTik introduction class by TNA
MTCNA
MikroTik Certified Network Associate
MTCRE
MikroTik Certified Network Associate
MTCINE
MikroTik Certified InterNetworking Engineer
MTCTCE
MikroTik Certified Traffic Control Engineer
MTCWE
MikroTik Certified Wireless Engineer
MTCEWE
MikroTik Certified Enterprise Wireless Engineer
MTCUME
MikroTik Certified User Management Engineer
MTCSE
MikroTik Certified Security Engineer
MTCSWE
MikroTik Certified Switching Engineer
MTCIPv6E
MikroTik Certified IPv6 Engineer
TNA-MTIPSEC
MikroTik IPSec Engineer by TNA
TNA-MTDUDE
MikroTik Dude Monitoring Engineer by TNA
Company:
Tarikin Vietnam Network Engineering Co., Ltd
Address: 
278/22 To Hien Thanh Street, Ward 15, District 10, HCMC, Vietnam
MST:    0316586380
Director: Thạch Thị Tựu
Bank:
Ngân hàng TMCP Tiên Phong - Quận 1, TP.HCM
Account holder: 
CTY TNHH KY THUAT MANG TARIKIN VN
Account:  0402 1274 501